What we do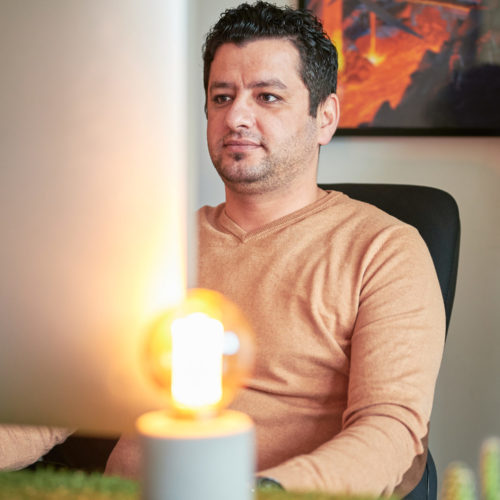 We offer everything from websites and online shops to mobile apps and customized internal tools. Over the years we have worked on a wide range of products and have developed an all-around comprehensive knowledge of digital services
creative concepts

Everything starts with an idea. We can help you grow your ideas into well thought out concepts.

You surely know your field and your customers better than we do, so we'll involve you in as many steps as possible in our common creative processes – we want your input! Depending on the project, we'll ask you for example to get in on the act during simple meetings, organized workshops or wireframing sessions.

Before we start, we'll decide together on the creative process that best fits your idea and we'll work together to create something unique.

digital experiences

We can do simple or we can do crazy. We can do creative or we can do corporate. Whatever style best suits your needs – is the style that you will get.

Your customers and prospects should feel as comfortable as possible while they experience your website or app. You know what they say – a happy customer is the best business strategy! As such, an intuitive user experience is key to show users that they are welcome and that you want them to stay.

In this context, the "design" is only part of the picture. We aspire to create experiences that are not only nice to look at, but also well-structured and easy to use user-friendly.

innovative solutions

The Web is huge, and we understand that our clients want their website to stand out and be unique. From concept to completion, we will always keep that in mind while still keeping a focus on the core of the project.

Innovation does not mean reinventing the wheel. But hey – the wheel might be able to do more than it was meant to in the first place! And that is the approach that we like to take, in everything that we do.

You see: In design, for example, innovation can be something as inconspicuous as a small animation that makes an interface more intuitive without disrupting the users' experiences.

captivating design

We are designers through and through, attaching great importance to detail – sometimes maybe a bit maniac – true, but we aim for perfection through excellence.

Whether you want to graphically implement a crazy idea or if you are looking to present yourself with a sober, commercial digital appearance, our designers and UX/UI experts will create a custom graphic concept tailored to your needs and expectations.

Our driving force is to push the boundaries and to create state-of-the-art digital and graphic solutions.

custom development

From simple web sites to complex web applications, we consider development as a form of art. The code for each project is modelled into the perfect form until it fulfils our clients' wishes and expectations.

Once your project has reached a stage where you want to put it in action, drop us a line! We have the necessary resources to help you implement it. We specialize in the development of web-based solutions – from small sites to large applications.

Overall, our preferred tools to work with include well-known content management systems (CMS) such as WordPress or Drupal. For more complex projects we love working with the Symfony framework. The frontends we develop are based on the modern ES6 JavaScript version and toolkits such as Vue JS.
We are working together with Moskito

Full-service agency

Our domain of expertise is the Web. Should you have any further marketing needs, let us introduce you to Moskito! Together with this full-service agency, we can offer a larger range of services – including print, video and communication strategies – while maintaining a high level of quality and a consistent result over all aspects of your project.

Moskito is a team of dynamic, smart (and charming) folks specialized in communication and marketing, bringing together different areas of expertise such as graphic design, copywriting, designing advertising campaigns, editing and producing of video spots, and more. Above all, it's their accomplishments in developing communication strategies that make Moskito the ideal agency to create effective solutions and bring an added extra.
Our clients
Our clients
Our clients
Our clients
Our clients
Our clients
Our clients